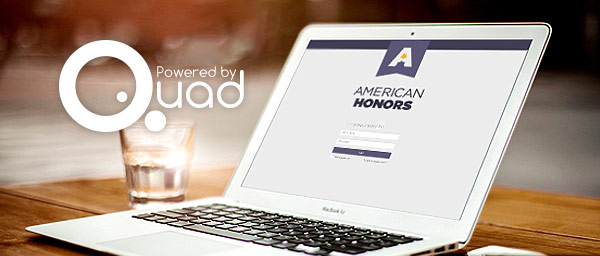 This product update is the system's largest since our launch in Fall 2012 and what's exciting is that we still have so much more to show you! Here's a preview of what you'll see once you login. Quad is the name of our new platform, which was originally known to many users as "Central", and sometimes "Canvas". You may ask, "Why did you change the name?" It's simple. We have a lot of special care into this update that it was absolutely worthy of a new brand.
Enhanced Experience

To match our new name, we've given Quad a new face and completely re-worked the design to something much cleaner. Our goal is to bring our users closer to the American Honors program and also allow for a stronger sense of social identity across Quad. Our servers are bigger and better than ever before. We've done a lot of tinkering to make sure that we've got increased reliability, which means less downtime. We are already seeing a minimum of 50% faster page loads due to some re-written code and optimization in areas that we've heard from you that needed some work.
Increased social features
Quad has an entirely new version of deeply integrated social features that allow our advisors to have direct access to student information located in one location, allowing for more efficient meetings. Users can now discover peers across the network and build a list of followers that share similar interests or courses as you. You can now watch the stream instantly update in real-time without having to refresh the page to allow for faster communication.
Later this Summer...
In just a few short weeks, we'll be releasing new advising tools for our students and advisors that aim to keep students on the right path to graduate in two years or less. We're also working to integrate new learning tools for our instructors that give the instructor the ability to give dynamic feedback to student assignments (similar to MS Word).
Look forward to your feedback!
Dan Preiss
Product Manager
dan@americanhonors.org